Head to your Posts page and click on "New Video".
Here, you'll be able to add a video or record a video using your computer or mobile device's camera.
Upload a video into a post
1. Click on "Upload video file" and select the video you'd like to add from your computer.
Tip: The video types accepted are 3GP, AAC, AVI, FLV, MP4, MOV, MPEG-2 and the maximum size is 20 GB.
2. The upload will automatically begin and will appear at the top of your post once it's finished processing.
3. Once you've finished your draft and are ready to publish, the video post can be sent to everyone, paid subscribers, or free subscribers– just like a normal post.
Record a video in a post
1. Select "Record video" and your webcam will appear on the page.
2. Click on the red circle to start recording and click on the red circle again to stop recording.
3. Your video recording will automatically begin uploading and will appear at the top of the post.
For mobile devices
To upload a video: Tap "Upload video" and select the video file from the options in the menu.
To record a video: Tap "Upload video" and select "Take Video". Your camera will open and once you finish recording, the video will appear on your draft post.
Can I change the thumbnail image?
Once your video has been uploaded into the post, click on the three dots on the top right corner of the video and select "Choose Thumbnail". You'll be able to select a still from the video to be the thumbnail image.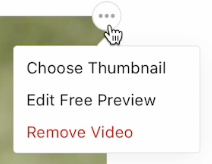 I have paid posts– can I show a free preview or teaser of a video?
Yes! Similar to free previews of paid posts, you can show a snippet of a video in your post. Click on the three dots like the image above and select "Edit Free Preview".
Choose which part of the video you'd like to be as the free preview clip and publish the video post for only paid subscribers. When free subscribers and readers see your paid post, they'll be able to watch the clip but be prompted to subscribe to watch the full video.
Where can I see how many times my video has been played?
On your Posts page, expand the video post to see detailed statistics. We'll show your video play count, hours watched, details about new subscriptions, and how many times your post has been shared.

How does a video look in an email to my readers?
If you send the post as an email to your readers, a thumbnail image of the video will appear in the email. Just like clicking the title of your post in an email, clicking the thumbnail will direct readers to the web version of your post.
How long does it take for a video to process?
Processing times depend on the file size and you'll see an ETA in minutes while the video is being uploaded. While this happens, you can write a draft using the post editor. To cancel the upload, click on the X next to the status bar.
I'm seeing an error message about my camera and microphone and can't record a video. What can I do?
It's possible that you've blocked your internet browser from accessing your computer's camera and microphone. To grant permission, head to System Preferences and open Security & Privacy.
Under Camera and Microphone, select your internet browser like Google Chrome and you'll then be able to record a video using your computer's webcam.