Unsubscribe within an email newsletter
The easiest way to unsubscribe from a free publication is to scroll to the bottom of any email you've received and select "Unsubscribe".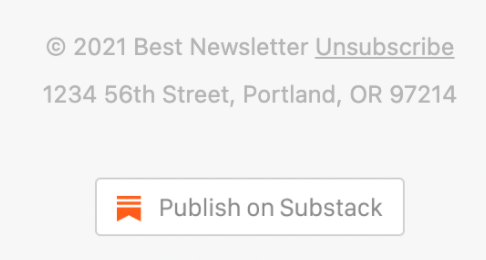 Once you click "Unsubscribe" a new window will open and you'll need to select "Turn off emails".

Unsubscribe directly from your Substack account
1. Navigate to your Settings page via www.substack.com/settings or select your profile icon and select "Settings" from the drop-down menu.
2. Under Subscriptions, click on the publication you'd like to unsubscribe from.
3. On the next page, head to the Notifications section. Click on "Unsubscribe".
Unsubscribe from a section
When you subscribe to a publication that has sections, you'll automatically be subscribed to every section.
Follow these steps here on how to unsubscribe from a section.
Unsubscribe from all publications and Substack emails
If you'd like to unsubscribe from every Substack publication you're subscribed to and also stop receiving Substack emails, you can do this in your Advanced Settings section of your Settings page.

Note: Disabling all emails will completely unsubscribe you from a publication. This means you will not receive email newsletters, see posts in the Substack app, or see the publication under your Subscriptions.