Want to stop receiving a newsletter in your inbox?
The easiest way to unsubscribe from a free publication is to scroll to the bottom of any email you've received from a writer and select "Unsubscribe".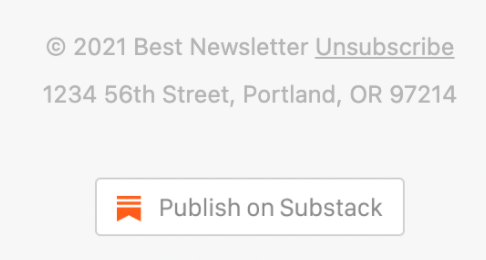 Once you click "Unsubscribe" a new window will open and you'll need to select "Turn off emails".

Unsubscribe directly from your Substack account
Step one: Navigate to your Account Settings page at this link: www.substack.com/account/settings
Step two: Under Subscriptions, click on the publication you'd like to unsubscribe from.
Step three: On the next page, uncheck the box next to Newsletter Posts.
Tip: Turning off all notifications will unsubscribe you and cancel from this publication as a free subscriber.
Unsubscribe from a section
When you subscribe to a publication that has sections, you'll automatically be subscribed to every section.
Clicking the "Unsubscribe" link in an email newsletter will not completely unsubscribe you from this publication.
On the Account page of the publication you'd like to change, uncheck the box next to the section you'd like to stop receiving notifications from.